DOXA
Benefits
-Helps to support women's fertility and healthy conception.
Helps to build nutritional reserves for good reproductive health.
Helps to regulate hormone levels.
Product information
DOXA consists of 21 essential nutrients, including key vitamins, minerals, and some effective herbs to support women's good reproductive health.
This formula is designed to provide fertility support, helps to fill the nutritional deficiencies, and prepare your body for conception. It also helps and contributes to immunity, fetal growth, cell division, and hormonal functions.
DOXA contains folic acid which helps to increase and maintain maternal folate stores which play an important role in maternal tissue growth during pregnancy.
DOXA consists of Vitamin D3, Vitamin B12, and Vitamin B6, which contribute to the cell division process, regulate hormonal activity, and maintain the normal functioning of the nervous system, respectively.
-It also includes some essential nutrients like Zinc, L-Arginine, Inositol, N-Acetyl Cysteine, and folic acid, which are crucial for women's fertility.
DIRECTIONS
Take (1-2) tablets daily as a food supplement with water preferably after the meal.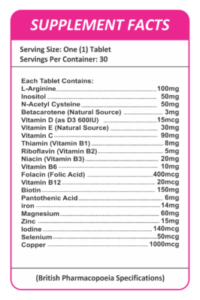 Compare